Here you'll find all necessary information about the o2 My Handy contract and where you'll find the information needed online in Mein o2 or in the Mein o2 App. The information collected here include: 
Installment Plan
Down Payment
Overview/Managing your Installment plan
Premature Payment / Contract Termination
Frequently Asked Questions

Installment Plan

After you concluded an o2 My Handy contract you will be send an invoice and information regarding your installment plan.
If you buy your mobile phone in one of our o2 shops or any other authorized dealer, the installment plan will be handed out to your after the down payment.
If you conclude the o2 My Handy contract online or via telephone, the installment plan will be send to you by post one week after.

The installment plan includes all information about the total price of your device, the down payment as well as the monthly rates and their respective due dates. Since the installment plan also functions as your bill, the total price is stated there, even though you agreed upon a payment over 12 or 24 months.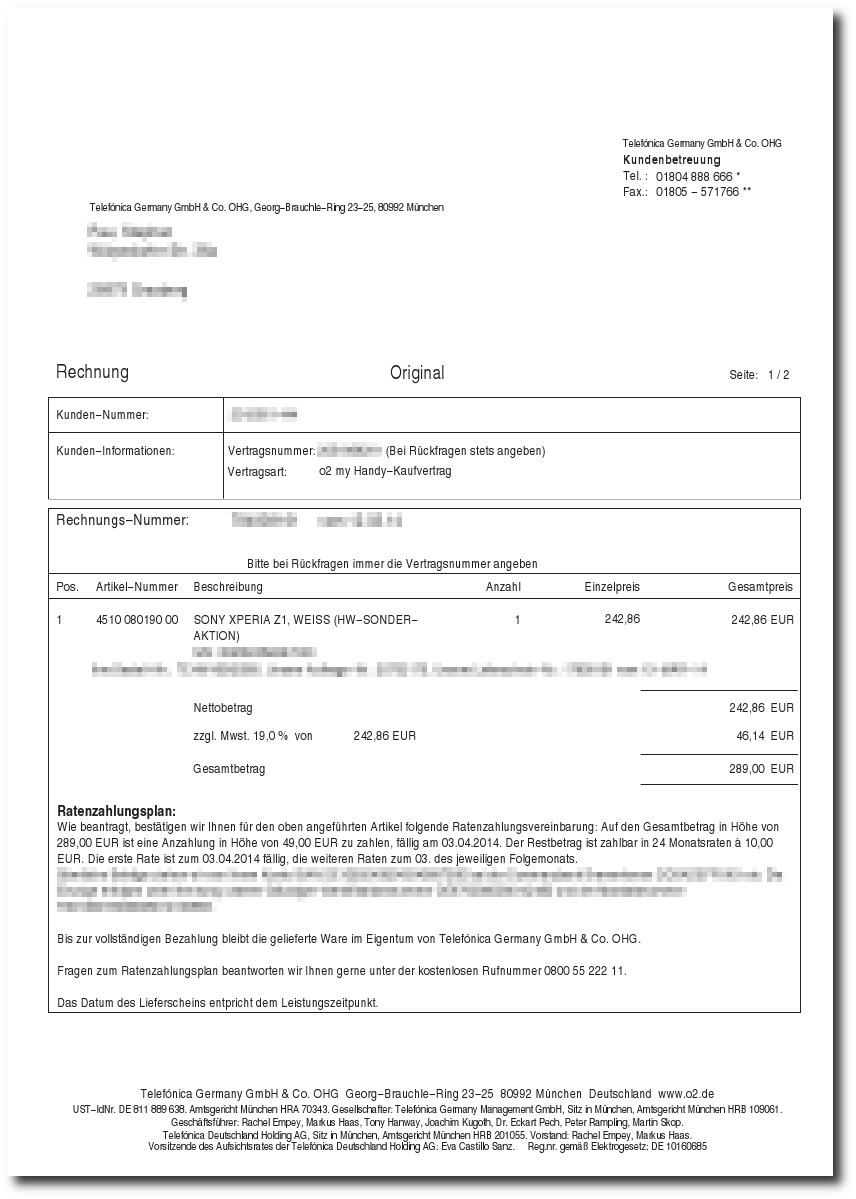 Deposit

If you buy your mobile phone or tablet in one of our shops, the deposit will be made directly via debit card.
If you bought your device online or via telephone, the deposit will be due together with your first installment/rate.


Overview/Managing your Installment plan

You have several options to keep an eye on your installment plan
Via our Online Portal via: Click
Via our "Mein o2"-App

You can get our "Mein o2"-App for free either in the Google Play Store, App Store or Windows Store.
Online you'll have the following options to check on: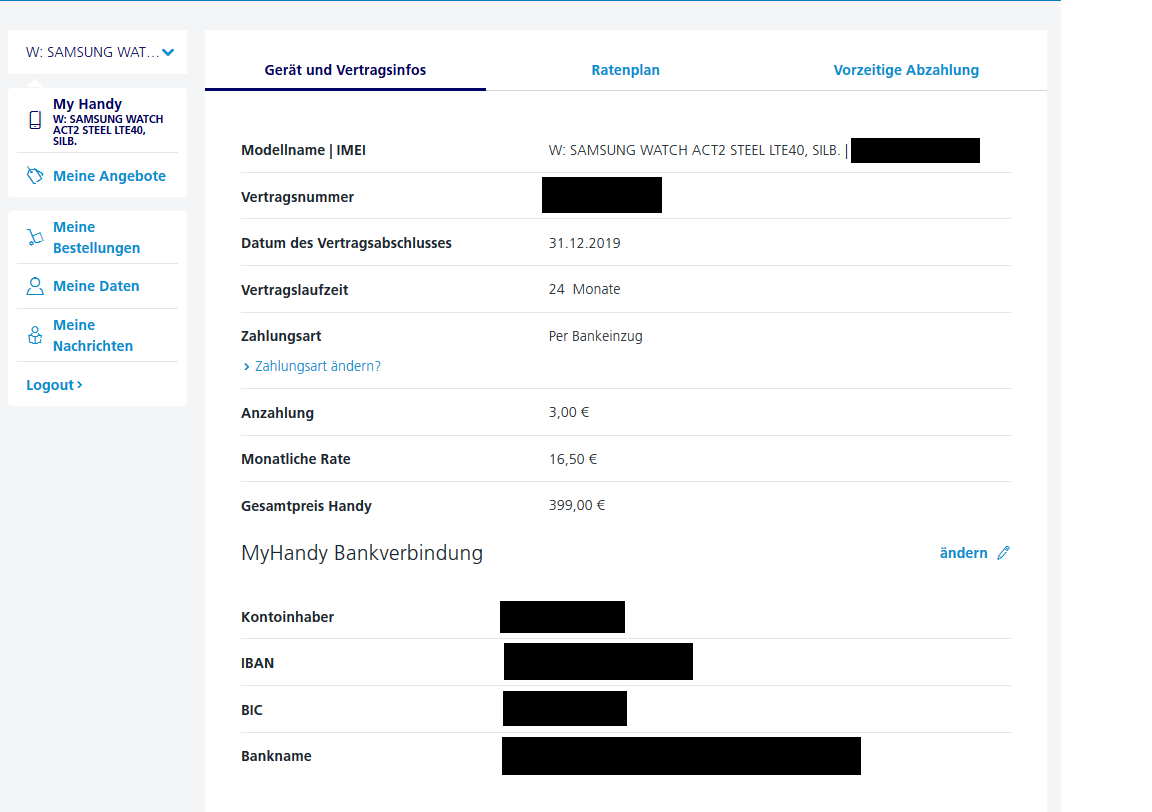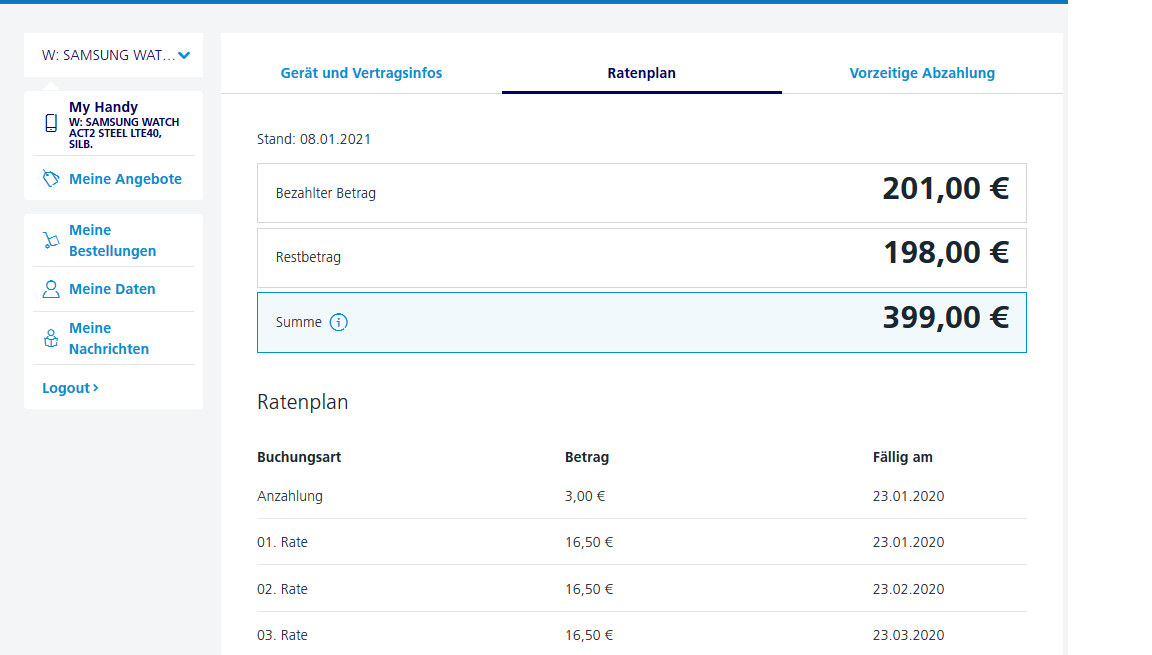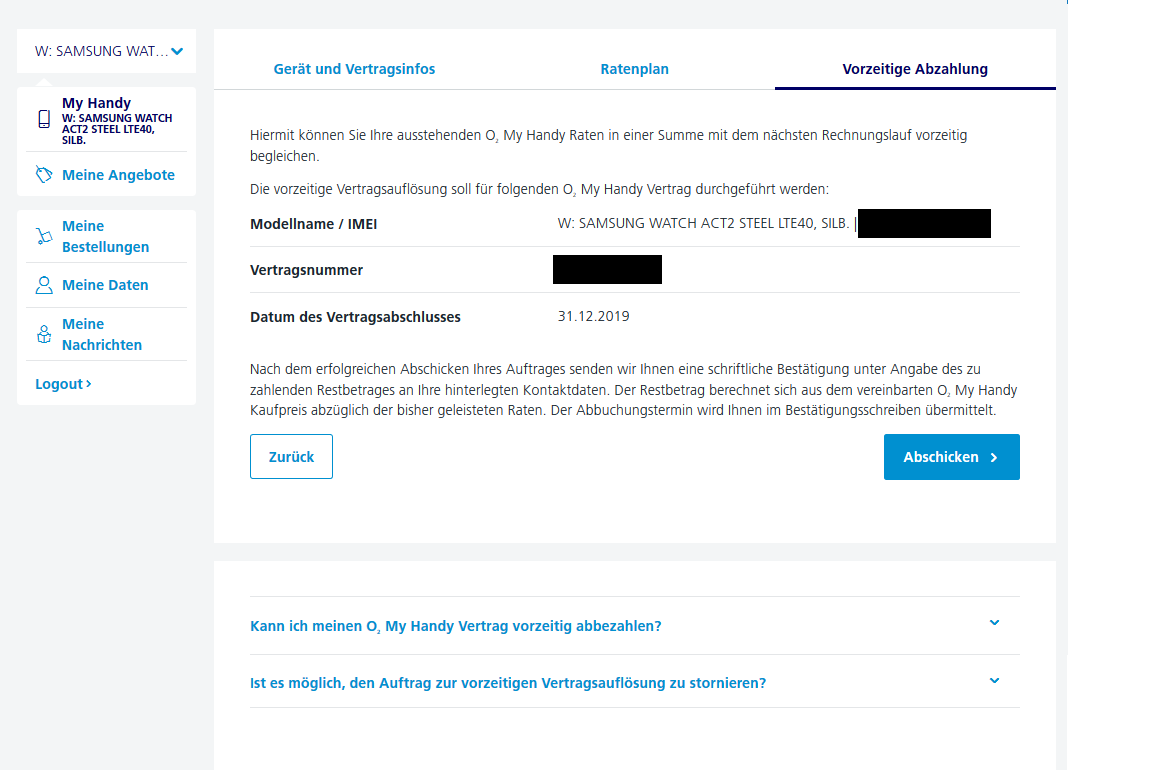 Premature Payment / Contract Termination

Follow this link to the FAQ: Click
 


Frequently Asked Questions
I bought a smartphone together with a mobile tariff. Why am I not charged the total amount?

With o2, mobile contract and o2 My Handy are two separate contracts. This is why the installment for your smartphone is charged separately.
Example: Bundle, which is EUR 36.99 in total. You will be billed for your o2 My Handy contract with an installment of EUR 22.50 (first installment, eventual down payment not included). Your mobile tariff, less respective discounts, is billed with EUR 14.49.
EUR 22.50 (o2 My Handy) + EUR 14.49 (mobile tariff) = EUR 36.99 (bundle).
Why do I not get monthly bills for my installments?

Your o2 My Handy contract is an installment plan. As soon as you conclude the contract we send you the bill and the installment plan, which includes an overview about the respective due dates.
If I choose to end my contract to an earlier date, do I have to pay the remaining amount at once?

Yes, since payment cannot be made with individual rates.
It is not possible to change the amount of your installments. If the existing installment plan does not fit to your needs and wishes, you have the option to withdraw from your contract within the first 14 days after the contract is concluded, send your smartphone back to us and order a new one with an installment plan that fits you better. Please note that this does not apply if you bought your smartphone in one of our shops.
 
Can someone else take over my o2 My Handy contract?

No. This option is only available for mobile or DSL tariffs.
 
I changed my bank details/address. What do I have to do?​​​​​
Please let us know about such changes directly via our online portal.
 
I need a copy of my o2 My Handy contract. Where can I get one?
In such cases, please contact our customer service.
Did you find all information needed? We would appreciate it if you'd click "Gefällt mir"/ "Like".  
If you have further question or any comment about this topic and process you can visit our English o2 community and write a question! 
Latest Update: 01/2021